Which Southie will capture your heart? Scroll through our adoptable dogs and cats and get to know them. If you are interested in meeting someone, please download and fill out our adoption application and return to us via email at info@thesoutherndog.com
Thank you for choosing to adopt a rescued dog or cat! Whether you adopt from The Southern Dog or another rescue group, the fact is you will save a life.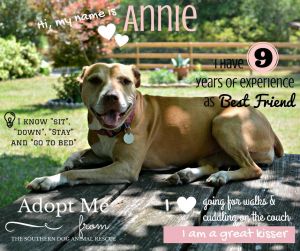 Pit Bull Terrier, American Staffordshire Terrier
Up-to-date with routine shots
Spayed/Neutered
You want a puppy? Aw, come on. Aren't you a little more discriminating? Pets, like fine wine, improve with age. When I think about all the dumb things I did as a puppy, I just want to howl with embarrassment! The chewing of shoes. The peeing on rugs. The unfortunate incident with the vacuum, which is best not discussed. But now I'm older and wiser. I may be a little slower, but I'm also smarter and calmer and less likely to drive you crazy. I'm ready to be your friend and couch-mate, to share long walks and evenings relaxing. I'll romp like a puppy sometimes, but not all the time. Believe me, that's something you'll appreciate at three in the morning. So go check out the puppies and the kittens, and then, when you're ready for a mature relationship, come back to me. I've got a lot of love left to give. Will you let me give it to you? info@thesoutherndog.com www.thesoutherndog.com www.facebook.com/thesoutherndog
Adult, Female, Large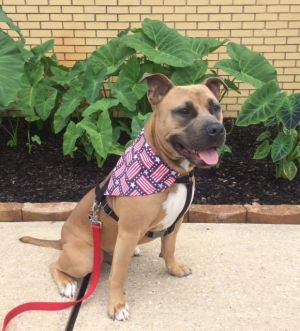 American Staffordshire Terrier, Pit Bull Terrier
Up-to-date with routine shots
Spayed/Neutered
Courtesy Post - Meet Brody! He is such a great dog and has NO restrictions. He is healthy as a horse, UTD on all monthly preventatives and yearly vaccinations. He is microchipped, HW--, house/crate trained and still young. He has a lot of love to give and has been super patient the last 11 months waiting for someone to love him like we do! His foster dad also leaves for Korea soon. Distance is NOT an issue for the right adopter....he can be transported almost anywhere in the US. Please share sweet Brody in hopes of finding him his own forever HOME! Anyone interested in him can call Tina directly at 850.830.1612.
Adult, Male, Large